It was a CCNS Wintertide Rising party on the slopes of Alpe du Zwift today!
Here is a (partial) rundown of the brave riders who conquered the climb:
Rosy Jacobson: 4 and 1/3 climbs.
Ann Barnes: 4 and 1/3 climbs.
Mike McIntyre: 5 climbs
Christian Duncan: 3 climbs
Coach Aidan: 2 climbs
Chris Smith: 5 climbs
Patsy Klotz: 3 climbs
Stephen Meisl: 1 climb
Lisa Lochner: 3 and 1/3 climbs
Brian Wolfe: 1 climb
Pat Murray: 2 and 1/2 climbs
Grace Jenson: 2 climbs
Coach Hunter: 8 and 1/2 climbs for the vEveresting Badge!
Even our WR leader, Dale P got involved with one time up the climb (after riding 91 freakin miles!)
Here are the current results!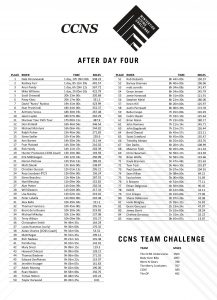 Dale Perzanowski tightens his grip on the overall lead. Ohio resident Rodney Furr has jumped into 2nd place by less than 2 hours! Arun Pandy refuses to go down without a fight though.
Our top female rider remains Patsy Klotz. In another podium shake-up, Ann Barnes has jumped into 2nd place.
In the team competition, The Underscores, anchored by Dale's insane amount of miles, leads by 500.
Tomorrow, we encourage everyone to join up with the CCAP for an hour-long easier ride (with what is sure to be thousands of others) in support of World Bicycle Relief at 11 AM EST. This will give a lot of tired legs the chance to recover a bit before the final push in this year's Wintertide Rising Challenge. For ride details, CLICK HERE.

Click on the image of the results, or download the PDF HERE.