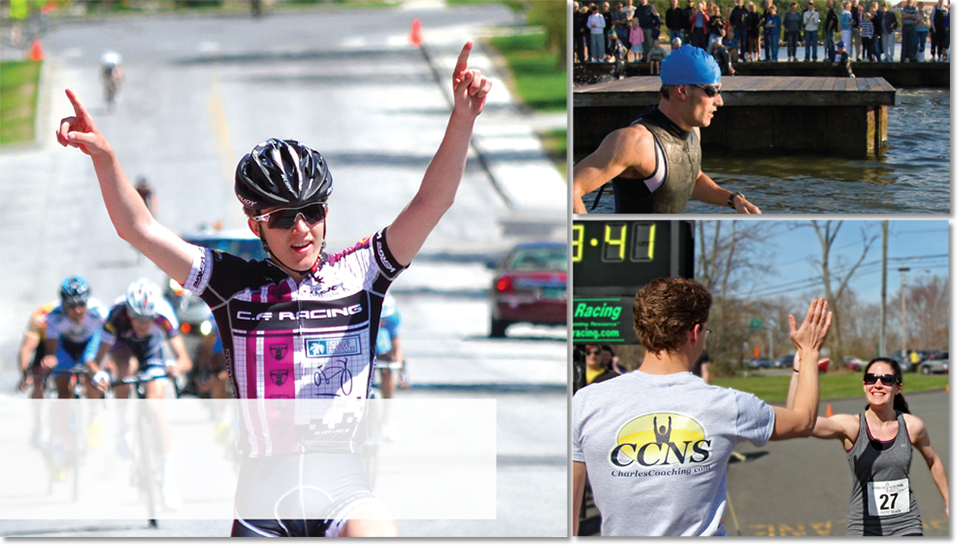 Build a real relationship with meaningful one-on-one contact. The coaches at CCNS know it requires a thorough knowledge of an athlete's physiology, personality, and experience to create successful training programs and improved race performances.
The CCNS Coaching Philosophy
Athletes are smarter, more motivated, and faster than ever before. Training is more specific, workouts are more efficient, and race performances are optimized. We know these challenges, and we're here to help you face them. Our goal is to make you faster, to help you accomplish more with less time, and to measure your potential and help you push it further. We want to make you a more confident, more successful athlete. Period.
---
How?
CCNS believes that to achieve your goals and reach new levels of fitness or racing you need to focus on more than just a training plan. We insist that real coaching focuses on everything from your training plan, to your diet, to your daily lifestyle. Consulting with your coach on a regular basis, on everything from training, to lifestyle choices, to riding tactics, is an understood and encouraged part of the coaching relationship.
---
Proven Science + Experience.
CCNS helps you achieve and surpass your goals by implementing the most advanced proven training techniques, the latest technology for training and assessment, and unparalleled first-hand experience. The CCNS Performance Center is one of the most extensive physiological testing facilities on the east coast. Whether it is hematological analysis, VO2 analysis, or biomechanical advising you need, CCNS has the tools to accomplish every goal. No guesswork or compromises.
---
Value.
We can't stand to see someone not reach their goals because they can't financially afford to. Ask about our pricing.
Full Custom Plan
Unlimited Consultation. Intensive contact is a must!
Weekly Training Programs
Less than 24 Hour Response time to any questions or emails.
Full Nutrition Analysis with Diet Planning for Weight Management
All Inclusive Performance Testing at no additional Charge.
Bike Fitting as needed at no additional Charge
Pertinent articles and literature on training, racing, and nutrition.
Free Access to CCNS Client Only Monthly Webinars
Bi-Weekly
Bi-Weekly Email and Phone Consultation
Bi-Weekly Training Program
Performance Testing as needed at the CCNS Client Discounted price
Pertinent articles and literature on training, racing, and nutrition.
Discounted Access to CCNS Client Only Monthly Training Webinars
3 Month Consultation Plan
One lactate threshold test at the beginning of the training period provides valuable insights into immediate training goals. We then will establish a day-to-day training plan based off your schedule, your long term plans, and foreseeable competition calendar. This option provides a fantastic start for an athlete that is confident in his or her own knowledge to manipulate their own training plan as needed if a schedule conflict should arise. It is also effectively utilized by many athletes looking to intelligently transition from one training period to the next (from road season into cyclocross for example). Please use the contact link below for more details.
---