If you have ever been to the CCNS HQ or any CCNS events in the last 8 years, you have probably met Coach Hunter. He is the master of our lab testing and bike fits, a go-to for events, coaches one of the CCAP's most prominent Junior Teams, the Rail Trailers, and is an all-around great human. Though he may seem quiet and reserved, we have found that demeanor is one of focus and deep thought. CCNS Athlete, Lisa Stanley, has worked with Hunter for over two years and shared her experiences-
" I first met Hunter at a bike shop presentation and found him to be personable and knowledgeable, albeit a bit quiet and reserved… After working with Hunter for over two years, he is anything but quiet and reserved!  Not only is he knowledgeable about all things cycling (and the technology to support it), he is fun, engaging, intuitive, creative, flexible, understanding, patient, inclusive, and supportive, not to mention hilarious!"
So, to uncover more about this mysterious man, we wanted to take this opportunity to highlight Coach Hunter and dig a little deeper into what makes Hunter, well… the Huntycakes we know and love!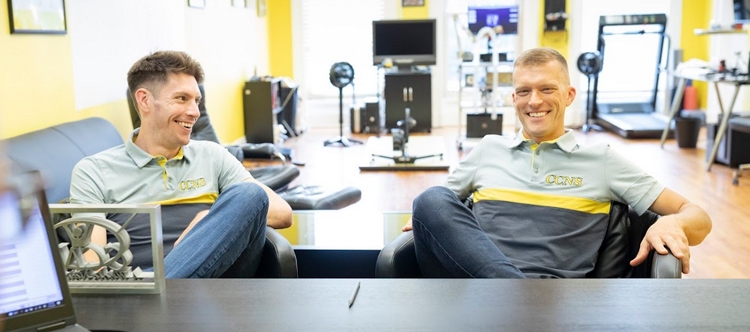 Just like most children who grew up in the '80s and 90s, his main mode of transportation was his bicycle. Back then it was an old BMX bike he used to get to and from, with some "cool" stunts in-between.
At the age of 14, he was introduced to a proper road bike, handed down by his father, and started getting out on some big rides. The goal back then was the Tiverton Century; his crew (himself, his dad, and friends) would train in the spring and summer, complete the century and then take the winter off before attacking it again the following year.
It wasn't until he was 17 that he attended his first race, the Bridgewater Road Race in Bethel, CT, and saw what the sport could be. However, believe it or not, he still wasn't hooked.
At the age of 18, he opened an ice cream shop called Scooples in Cheshire, CT, and took off on a wild adventure as a young business owner.
Finally, at the age of 21, he made more time to be a part of the local bike shop's culture. That opened the door to the amazing community behind the sport and he was hooked. The competition, the friendships, the stories, and most perhaps most importantly, the weekly Sleeping Giant group ride. He never looked back.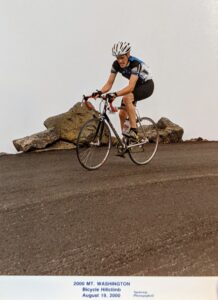 A young Hunter high atop Mount Washington (using standard road gearing!)
CCNS: 20 years into your serious cycling career, what gets you out the door to train every day?
Hunter: Racing, and getting better at the sport! I am a competitive person. Along with that, the statistics and the ways to find ranking in the competition. For example, when  I was 11 or 12 years old, we had a local crew of kids that would play baseball in the summer. I was at nearly every game we played. When I got home, I would write down the stats of all the kids that played and keep a running total. At the end of the summer, I made each of our crew a baseball card with their stats and rankings. Thinking back on it seems silly but it made my world go round at the time.
CCNS: Haha! So you've always been the numbers, and competition type then. Is that what brought you to be a coach at CCNS?
Hunter: In 2013, I was brought in to help promote the business. Once I got in and saw all that is done here with the physiological testing, the science, and the data, I was hooked. It was right up my alley. I knew I wanted to help and work with athletes.
CCNS: What is your favorite part of working with athletes?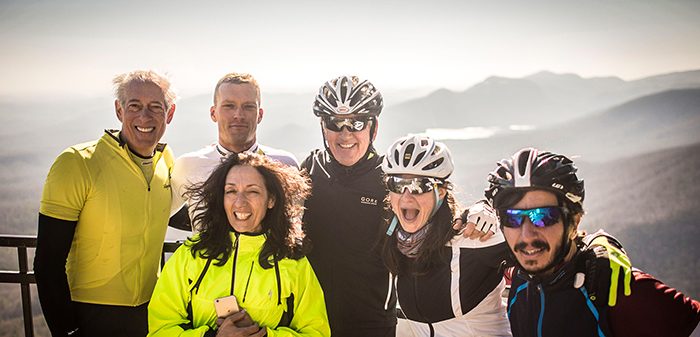 Coach Hunter on top of the Caesars Head climb with a group of awesome CCNS Training Camp riders.
Hunter: The process of seeing someone achieve a goal. There is nothing better than knowing (first hand) the process for an athlete to reach their goal, and hearing the excitement in their voice as they achieved something through hard work, dedication, and tenacity. It's fun to see someone push themselves and set new limits.
CCNS: We agree there! That all being said, what are your personal goals to achieve in 2021?
Hunter: Green Mountain Stage Race! If you are a New England racer, you know GMSR is the best race weekend on the calendar. It's great, hard racing while in the relaxing setting of the beautiful Green Mountains. I look forward to that weekend as I build up to my CX season this fall. I have my thoughts about giving it a go at Masters CX Nationals this December as well, so we will see!
CCNS: We can't wait to watch you tear it up, Hunty! We do have a few last questions to find out a little more here-
Favorite Music? This is hard to pin down. Anything that's 110-130 beats per minute. So I guess you could say dance music?
Non-cycling hobby? … Chess, chasing hard-to-buy sneakers, making sure my dog is not bored.
What would 10-year-old Hunter think of you now? "Not muscular enough and I wish he drove a cooler car."
CCNS: Thank you, Hunter!
If you have any more questions for Coach Hunter (like, how to attack through the Queen's Gambit), just shoot him an email here.