CCNS athlete Bill Strebel is starting his second career as an endurance athlete. An accomplished Pro-Am rider as a twenty-something, he is now back at it, having more fun than he ever has, and making great progress by sticking to his training plan. In the span of 5 months, he dropped nearly 20 pounds and put almost 100w on his lactate threshold! It's a great story to share, and Bill has loads of enthusiasm, so we got him to answer some questions about his improvement and what he has planned for the rest of 2021.
CCNS – What brought you to CCNS?
Bill – I started racing at 14 years old and ultimately progressed to Cat 2 by the age of 19. I raced for a small team in Western Mass (Douglas Auctioneers/Yankee Candle) until I was 23, when I suffered a non-cycling-related back injury that required surgery. Post-surgery I tried to return to my previous form, but for whatever reason, over the next year, my performance waned. My final race was in July of 1995, Fitchburg Stage Race. I got dropped in the crit. There was a hellaciously steep climb on each of the 50 laps. I had never been dropped in that race before. I was extremely deflated. I rode over to my team manager and hung the bike up. I was only 24. I stopped riding from that point on.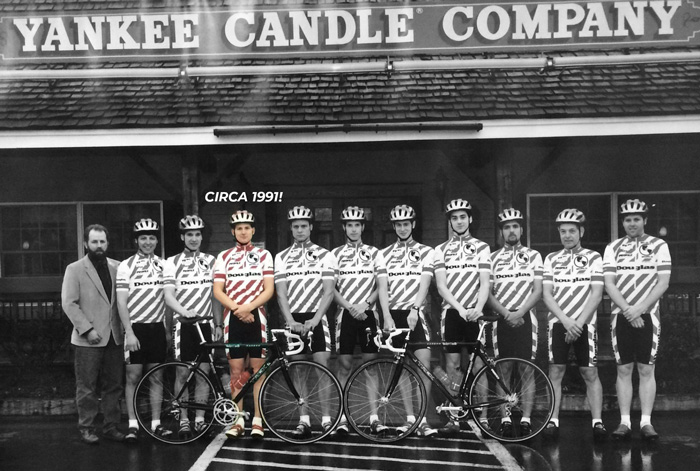 Over time, my fitness deteriorated, I put on a lot of weight – my race weight was roughly 73kg I ballooned up to 117kg over 25 years. Life came at me with ups and downs, 3 kids, a demanding job, family, and other challenges. And then another life-changing event occurred that forced me to take stock of things. I decided to give cycling another shot. In April 2020 I bought, of all things, a Peloton. I started riding again, and I soon realized how much I loved every aspect of riding a bike, albeit stationary at that time; from the sense of accomplishment of a hard workout to the gradual but definite fitness improvement and weight loss. I started at the worst possible level of fitness you can imagine – no aerobic capacity, overweight and little recollection of the pain one needs to endure when pushing the limits of one's physiological capabilities. However, I soon began to remember just how much I love to suffer on a bike, and I decided to see if there were group rides in my area. That led me to CCNS.  I knew what I was capable of in my 20s and I knew what my aspirations were back then. I really wanted to find out what my capabilities are now at the age of 50 – how far I can push myself and what level of performance I can now achieve. Initially, I didn't have any set goals other than to get back into the cycling community and to challenge myself to become fit and healthy. As I would quickly find out, my body and mind had held on to a lot of that old determination and was ready to get back into gear – no pun intended.

CCNS – What was your approach to training (and nutrition) prior to visiting us.
Bill – If I had a structured training approach before and after my injury in my 20's, I think I would have recovered successfully. Back then, I had a weekly program, but it was self-directed, and oftentimes, I'm sure I was doing the wrong things at the wrong time. My mentality was simple– "go 'till you blow". This may work from a purely ego-driven standpoint, but from a performance development standpoint, it is counter-productive. This time around I decided if I'm going to do this I need some guidance because left to my own devices, I tend to push way too hard and don't have that inherent ability to hold back when I should. It was hard to do at first. I definitely have a "crusher" mentality. When I smell fear in others, I love to attack, even if I know I'll likely blow and get dropped. My thought is always maybe this time it will work. But as we know, that is not always the prudent approach.As far as nutrition, I ate what I wanted. That has completely changed from working with CCNS. I'm extremely mindful of what I eat. I don't drink coffee anymore (personal choice, not nutrition driven), barely any processed foods, although I'll admit I love pretzels and salt and vinegar potato chips. I now eat tons of fruits and vegetables, no red meat, mostly chicken, fish, and a protein supplement drink. Since April 2020, I've lost more than 80 lbs through a wholesale change in diet and of course riding basically every day – but with a plan in mind. It's a complete lifestyle change.

CCNS – That's incredible! Was there anything surprising or unexpected about the first couple of weeks of training?
Bill – Yes, I forgot how hard riding a bike can be and how much it hurts sometimes! I knew it did, but I had forgotten what that truly feels like to have your legs on fire, lungs trying to squeeze in just a little more air, fighting that mental urge to give in to the pain and discomfort. And yet, despite that "pain", every day I wanted to come back for more because I could literally feel the daily improvement and quite simply love flogging myself on a bike. Yet, the biggest surprise has to do with the technology. Back when I was racing, a heart monitor was the pinnacle of technology. Now with power meters, GPS bike computers, it's a techy's dream come true (I work in IT). The constant feedback creates a techno-induced adrenaline rush. I'll admit, logging into Training Peaks after a ride to see what PRs I set is addicting. The best is when I didn't intend to set a PR and it happened anyway! The technology that is available now to fine-tune my training blows me away.

CCNS – What has the training, and the higher level of fitness given you?
Bill – In one word – confidence. The confidence in knowing that if I set my mind to something and go at it with 100% commitment, I can achieve whatever I set out to do.  The increase and continued increase in fitness has re-opened those doors that I shut some 25 years ago. Granted, I'm not 25 anymore, but my form is returning to a level that I remember performing at back then, and it has truly encouraged me to set some goals that I have every intention of achieving because I know with hard work, dedication, determination, guidance from knowledgeable people and hopefully remaining humble in that pursuit – they are definitely achievable.

CCNS – What's next for you? What are you focusing on during the next couple of months?
Bill – I'll be competing in 3 or 4 Gran Fondo events over the next few months, including the Gran Fondo National Championships. I'll also be competing in the USA Cycling Masters National Road Championships (once they figure out when and where) along with a host of other regional races from now until the end of the season.  Short term I'm focused on getting my weight down those last 15 pounds or so; continue to raise my ftp and get my w/kg above 4.2. I really want w/kg above 4.5, but every engine has a limit. The focus is on improving my fitness, having fun, meeting new people, and living life to its fullest. And whatever success I realize in cycling competitively is simply a bonus to all that.
One final note; the decision to contact CCNS, working with coaches there, the host of people I have met, has completely redirected every aspect of my life. I say that with all sincerity – easily the best personal decision I have made in my adult life.

CCNS – Thank you, Bill. The pleasure of working together is ours as well. Keep up the great work out there!