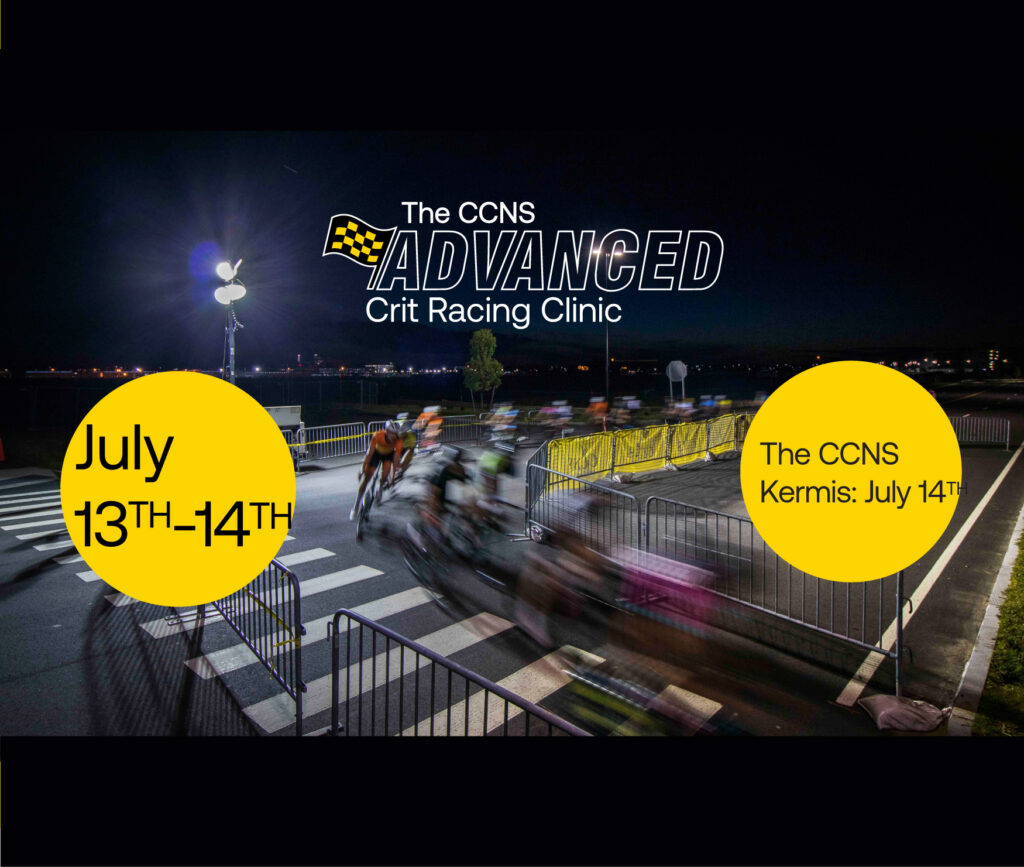 The CCNS Advanced Criterium Skills Clinic 
Enhance Your Cycling Performance with Expert Coaching and Practical Techniques
Welcome to the CCNS Advanced Criterium Racing Clinic and Webinar – a unique opportunity for ambitious and seasoned racers to sharpen their criterium racing skills. This event, featuring a Zoom session webinar and an in-person skills clinic the following day, is perfect for cyclists who want to improve their racing techniques, strategies, and overall performance in criterium events. The highlight of this clinic and webinar is the expert coaching provided by our experienced coaches and cyclists, who will share their knowledge and insights on a variety of topics.
Overview
June 13th, 7 PM EDT: Webinar Wisdom: Tune into a captivating online session led by expert CCNS coaches, focusing on the art of criterium racing.
June 14th, 3 PM EDT: In-Person Skills Clinic:  At the CCNS Kermis 
Hands-On at CCNS Kermis: Put webinar knowledge into action with an in-person skills clinic, guided by seasoned coaches.
What You'll Master
Our incredibly experienced coaches and guest speakers will guide participants through practical strategies and exercises that will cover the following topics:
Conquer Criterium Strategy:
Unravel race tactics, positioning, and teamwork secrets.
Analyze competitors, read the race, and adapt on-the-fly.
Corner like a Pro:
Perfect high-speed cornering with precision.
Hone advanced bike handling skills for tight turns and tricky lines.
Sprint to Success:
Maximize sprint potential with expert tips on position, gear, and timing.
Unleash explosive power for critical race moments.
Race Day Domination:
Prepare mentally and physically, including nutrition, gear, and recon.
Execute race strategies and tackle unforeseen challenges.
Learn from the Best

Host: CCNS Head Coach & Criterium Connoisseur
With over a decade of professional coaching experience, Aidan Charles, owner and Head Coach of Charles Coaching & Nutrition Services, has worked with athletes of all levels to achieve their goals in endurance sports. Aidan has guided athletes, including professionals like Ben Wolfe, Bryan Gomez, Daniel Estevez, Daniel Summerhill, and Michael Hernandez, as well as junior, masters, and elite criterium national champions, to remarkable accomplishments. As a former Under-23 USA Cycling National Team member and professional racer for the Nerac Cycling Team, Aidan brings first-hand experience to his coaching criterium skills advisements.
___________________
Ben Wolfe: Coach, Pro Racer & Race Whisperer
Coach Ben has risen through the ranks to compete at national and international levels. With over 40 race victories and top-10 finishes in the National Championship Road Race and U23 National TT Championships, Ben has raced professionally for teams such as California Giant p/b Specialized, Jelly Belly p/b Maxxis, and Hincapie Racing p/b BMC. He has also participated in World-tour level races like Tour of California and Tour of Utah. Coach Ben's racing experience, approachability, and enthusiasm enable him to connect with athletes, helping them overcome challenges and achieve new heights in their training and racing.
What You'll Learn from Ben: Ben will share insights on race homework and how to read a race, covering aspects like course review, registration list analysis, and controlling controllable variables. He will delve into race strategies, highlighting the importance of adapting to different stages of a race and identifying opportunities for success.
___________________
Coach Katrina Niez: Coach, Champion & Women's Racing Wizard has been a competitive cyclist for 30 years, starting her journey at the University of Arizona. Among her accomplishments are titles as Junior National Triathlon Champion, New England Time Trial Champion, New England Points Champion, and Masters National Cyclocross Champion. She has participated in professional road and stage races across the US and internationally from 1999 to 2003 for various women's teams.
What You'll Learn from Coach Katrina: Katrina will discuss the differences between women's racing categories and tactics, focusing on communication and teamwork. She will cover race planning, understanding competition, and adapting strategies during the race.
___________________
Coach Tanner Ward: Coach, Criterium Ace & Positioning Pro 
As a member of Best Buddies Racing in 2022 and The Miami Blazers in 2023, Tanner has achieved notable criterium results, including 3rd place at Saint Francis Tulsa Tough – Cry Baby Hill and 1st place at Sunny King Criterium. As a USA Cycling Level 2 Coach with a background in traditional sports, Tanner offers a unique perspective on criterium racing, helping athletes of all levels overcome challenges and reach their goals. His experience and passion make him an ideal coach for the CCNS Advanced Criterium Racing Clinic and Webinar
What You'll Learn from Coach Tanner Ward: Tanner will concentrate on bike handling and positioning, emphasizing the importance of adjusting position according to different race situations. He will address positioning strategies in relation to course types, field sizes, and individual strengths.
___________________
Danny Summerhill: Guest, Pro Cyclist & Versatile Virtuoso
Danny is an accomplished professional cyclist who has competed at the highest level in road racing and cyclocross. A versatile athlete, he became the U23 National Cyclocross Champion in 2010 and has represented the United States in multiple UCI World Championships. Danny has ridden for prestigious teams such as UnitedHealthcare, K-Edge/Felt, and Garmin-Sharp, competing in renowned races like the Tour of California and the Tour of Utah. With his vast experience and expertise, Danny offers valuable insights and guidance to help cyclists excel in criterium racing and beyond.
What You'll Learn from Danny Summerhill: TBD
__________________
Coach Hunter Pronovost: Coach, Strategist & Underdog Advocate
Coach Hunter is a seasoned coach at CCNS with over eight years of experience, specializing in physiological testing and performance analysis. A competitive cyclist since his teens, he has demonstrated consistency and longevity in road, cyclocross, gravel, and XC mountain bike racing, winning multiple age-group titles. A Level 3 USA Cycling Coach, Hunter actively supports youth cycling programs and leads clinics for riders of all levels. With a background in orienteering and a passion for helping athletes reach their full potential, Hunter brings a diverse skill set to coaching clients across various endurance sports.
What You'll Learn from Coach Hunter: Hunter will discuss racing strategies for underdogs, comparing and contrasting them with tactics used by strong riders. He will cover timing and observation, positioning, attacking, and sprinting, offering tips on how underdogs can maximize their potential in each aspect. Hunter will emphasize the importance of adapting to race situations, making the most of opportunities, and using the course to their advantage.
Enroll Today
Are you ready to elevate your criterium racing skills and achieve your full potential? Join the Advanced Criterium Skills Clinic and Webinar today and gain access to expert coaching, practical techniques, and a supportive community of fellow cyclists. Don't miss this opportunity to transform your racing performance and become a more confident, skilled, and successful criterium racer. 

Current CCNS athletes should inquire about their no-charge clinic entry code. On race day, each rider must bring a safe-working bicycle and a USAC-approved helmet.