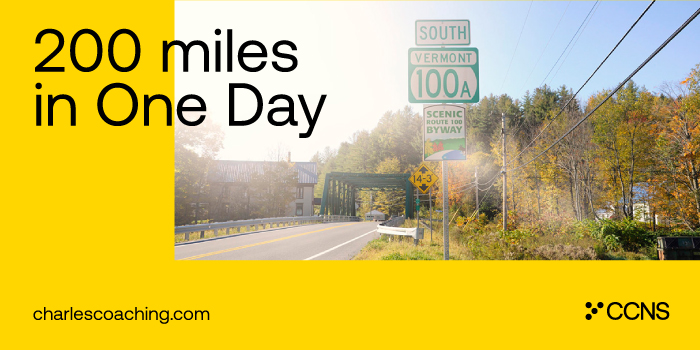 Welcome to the CCNS 200 on 100. Join us for a bucket-list ride down Vermont's Route 100 along the entire length of the state. Enjoy pristine New England scenery, ideal temperatures, and incredible support from CCNS coaches on this iconic, Canada-to-Massachusetts double-century route.
Let us take care of everything.
All you have to do is show up ready to ride.
From Our Riders
The 200 on 100 was an inspiring and beautiful ride. It brought me to surprise myself and achieve much better than what I expected, all thanks to the team support of the riders and the CCNS."
Osnat Levy
Boston, MA
For years I have wanted to do the 200 or 100, however, the logistics were more intimidating than the ride! In comes CCNS with the perfect turn-key solution. Rides, food, lodging, sag, etc... It was just about perfect! I will do it again.
Thanks Aidan, Hunter, and the rest of CCNS"
Larry Alford
Newton, MA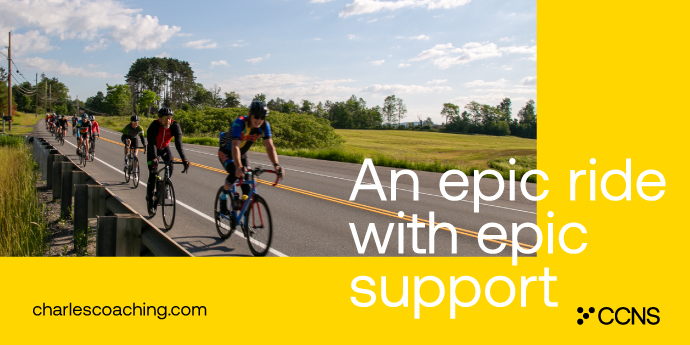 You will have mechanical and SAG wagon support of course.
In addition, as coaches, we want you to succeed. So expect to be supported, encouraged, and perhaps pushed a little. Sit down dinner, breakfast, and lunch eaten "on the road" is included.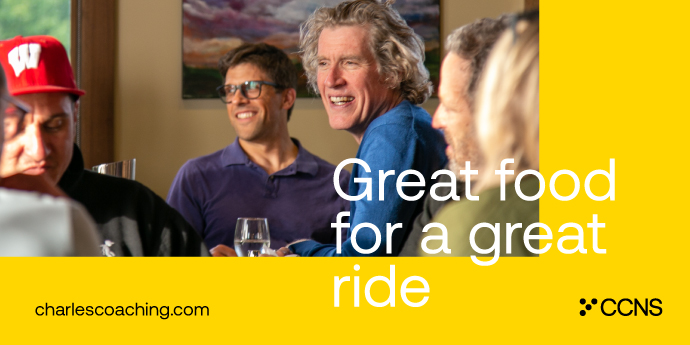 WHAT TO EXPECT
• Transportation to and from the start and finish points
• Accommodations at Jay Peak the night before the big ride
• Dinner the night prior
• Pre-ride breakfast
• Ride fuel and an appropriate picnic-style lunch
• Post-ride celebratory beers as well (pickles too)
• CCNS-curated team support and coaching mean you will
complete the ride with a group of riders at your speed
• Complete vehicle and on-the-road riding support
2023 RESERVATIONS WILL OPEN AROUND THE NEW YEAR.
F.A.Q.
When do I have to sign up for the ride?
As soon as possible! We arrange for transportation weeks in advance. Do not wait until the last minute or it may not be possible to join us.
How fast will this ride be?
It depends on which group you are in. Before the ride, we will establish groups of similar-strength riders.
That seems too fast for me!
If you want to do the ride, but you have concerns about being able to hold the pace, please reach out to us! We can help you decide if this ride is right for you. Email Coach Hunter: hunter@charlescoaching.com.
What if I can't keep up?
Our goal is to make sure that each rider is in the right group. That way, you can focus on pacing yourself properly, and making sure you stayed fueled for the entire effort. Within each group, there will be the opportunity for stronger riders to work more at the front, and for riders that are having a tough time to "sit-in" more.
How many long rides should I do before the 200?
We recommend completing at least two 6-hour rides in the month prior. This way, you will know if your bike fit. Needs adjustment. Regarding your endurance and the fitness needed, the answer is different for everyone! CCNS coaches are available to discuss your own training, and how best to approach the built-up to the 200. Reach out and contact us HERE.
Where do I get picked up on Friday?
We will establish meeting spots along the I-91 corridor in CT and Massachusetts. CCNS will transport you from there to the hotel, and then back to that spot after the ride.
Do I have to drive home after riding 200 miles?!
This is up to you! The ride finishes very close to hotel accommodations in Massachusetts. In the past riders have reserved rooms there, Sunday into Monday, to avoid having to drive all the way home. Reach out and we'll be more than happy to help.
What if it rains?
We will plan to ride rain or shine. Only lightning or dangerous storm conditions will force us to reconsider. Otherwise, it's 100% up to you if you'd like to hold off or cut the ride short due to weather conditions.
Can my wife/husband/partner come long?
Yes! We have a registration option for couples that wish to share a room Friday night by themselves. Because of travel logistics, your partner would need to have their own transportation for Saturday. Email Coach Hunter for more details: hunter@charlescoaching.com.
What are my ride food options?
We will have an assortment of ride fuel from PowerBar, Clif, and Untapped. We will also have Chef Tony, from our popular Greenville Training Camps, whip up a batch of his coveted rice cakes. There will also be a few opportunities to stop at stores along the way.
I'm vegetarian/vegan. What are my options?
Dinner Friday night at Jay Peak will feature vegetarian options. Riders can opt to bring their own breakfast foods, as well as any specific vegan on-the-bike fueling options they desire.